Overview
Three Springs Solar Pty Ltd is proposing to construct and operate a 100MW solar photovoltaic power station on Lots M761-M764 and Lot 50 Bruce Road, approximately 2km north east of the Three Springs Townsite.  The sites are predominately cleared farm land and no vegetation clearing is proposed.
Why your views matter
At this initial stage of the EIA process, comment is simply sought on whether or not the EPA should assess a proposal and, if so, what level of assessment is considered appropriate.
The following diagram shows the stage this referral is at: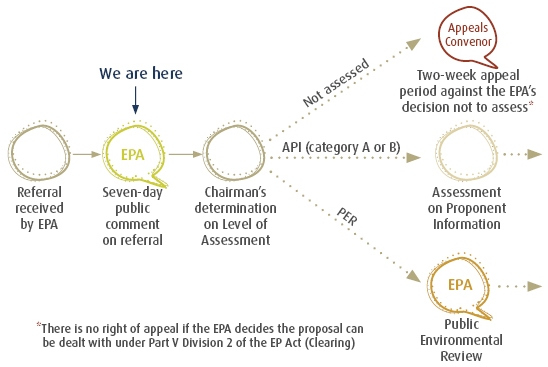 What happens next
Following the seven day public comment period and consideration of any comments received, the EPA will decide whether or not this proposal requires environmental impact assessment and, if so, what level of assessment will be applied.
The Chairman's decisions on level of assessment are released each Monday on the EPA's website.