Overview
Italia Stone Group proposes to develop a hard rock quarry at Lot 800 Pruden Road Whitby, approximately 3.5 kilometres east of Mundijong in the Shire of Serpentine-Jarrahdale. The proposed quarry is on freehold land and is for the extraction of 50,000 to 100,000 tonnes of hard rock per annum for a period of 20 years. The material will be extracted by drill and blast methods and hauled by truck to a processing area for crushing and stockpiling on site.
Why your views matter
At this initial stage of the EIA process, comment is simply sought on whether or not the EPA should assess a proposal and, if so, what level of assessment is considered appropriate.
The following diagram shows the stage this referral is at: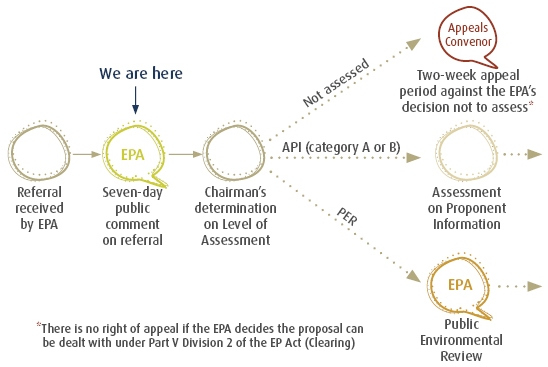 What happens next
Following the seven day public comment period and consideration of any comments received, the EPA will decide whether or not this proposal requires environmental impact assessment and, if so, what level of assessment will be applied.
The Chairman's decisions on level of assessment are released each Monday on the EPA's website.